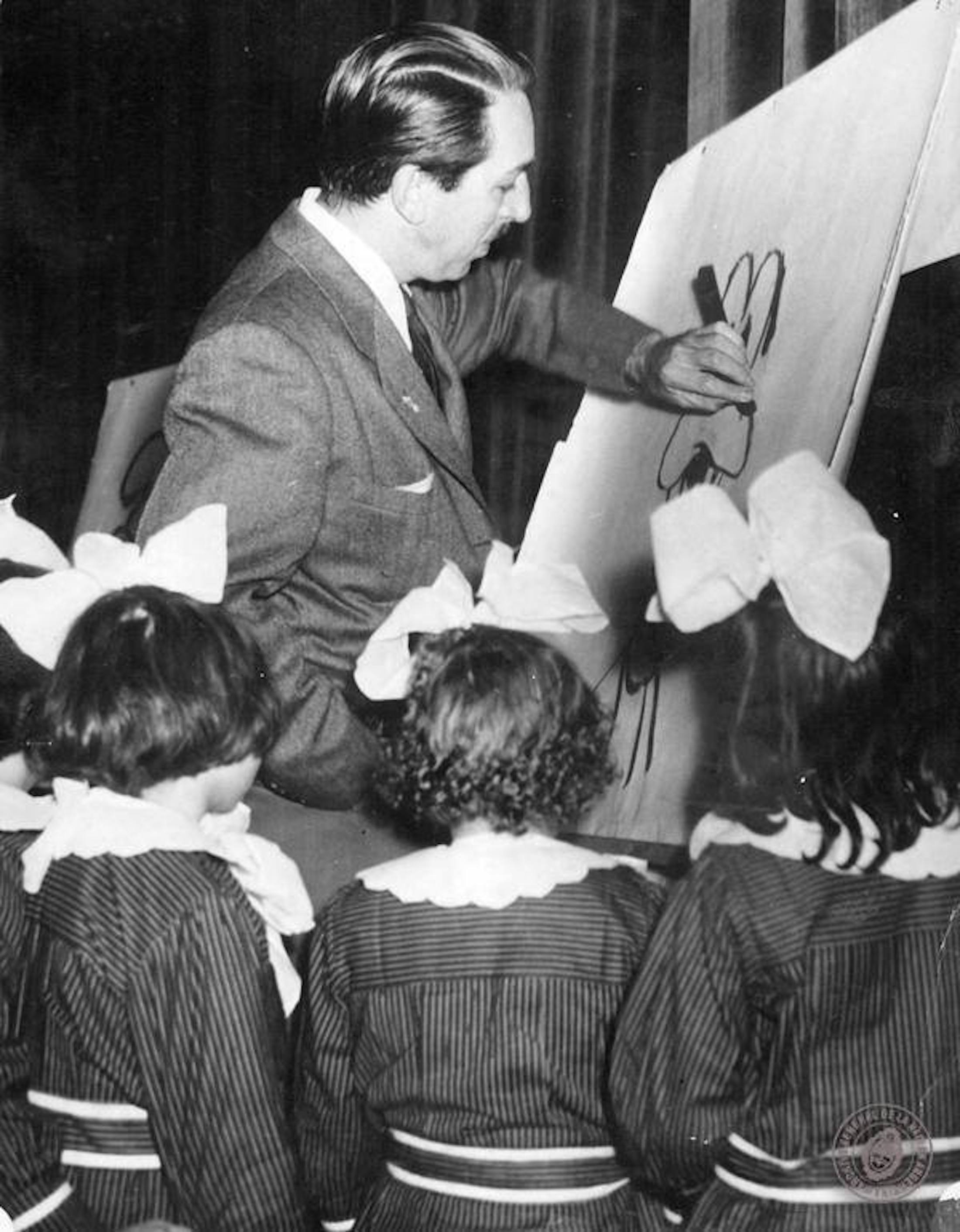 Story Lines: "Mickey Mouse to the Magic Kingdom" - Walt Disney Brings Entertainment to the Masses
Walt Disney was an animator, a voice-over actor, and a world class entrepreneur. Born in Chicago on December 5, 1901, Disney took art classes as a boy with plans of becoming a commercial illustrator. His interest in animation took him and his brother Roy to Hollywood in 1923 where they opened Disney Brother Studios.
Disney introduced Mickey Mouse to the world in one of his very first "shorts" called "Steamboat Willie." Created with Disney fellow animator Ub Iwerks, Mickey and the Magic Castle at Disneyland would become icons recognized around the world.
If Edison lit up the world, Disney brought magic to life. The first to use synchronized sound. His first full-length feature "Snow White and the Seven Dwarfs" used a new process called Technicolor. In 1955, Disney used cameras with special lenses that could compress a wide image into a standard frame and expand it again when it was projected making "The Lady and the Tramp," the first movie shot in Cinemascope. Disney won 22 Oscars.
Disneyland opened to great success in 1955. He produced two television shows. A weekly program called Walt Disney's Disneyland and "The Mickey Mouse Club," a daily show that captured the hearts of American boys and girls for generations. Famous Musketeers include Annette Funicello, Kerri Russel, Ryan Gosling, Christina Aguilera, Justin Timberlake and Britney Spears.
At the 1964 World's Fair, Disney introduced a new form of animation he called Animatronics. "The Carousel of Progress" told the story of technological progress and the promise of a "push button world." This exhibit became the inspiration for Disney's two final projects Disney World and the Experimental Prototype Community of Tomorrow or EPCOT. The new park opened in Florida shortly after Disney's death in December of 1966. EPCOT opened in 1982.
Walt Disney was a marketing genius. He created an iconic brand by recognizing early on the lasting value of his creations. His company floundered following Disney's death. It regained its prominence in animation in the 1990's beginning with "The Little Mermaid" and the purchase of computer animation company Pixar from Steve Jobs in 2006. Disney plans to launch a TV subscription service to compete with Netflix and Amazon 2019.
By: Equity National Title October 14, 2019 Uncategorized