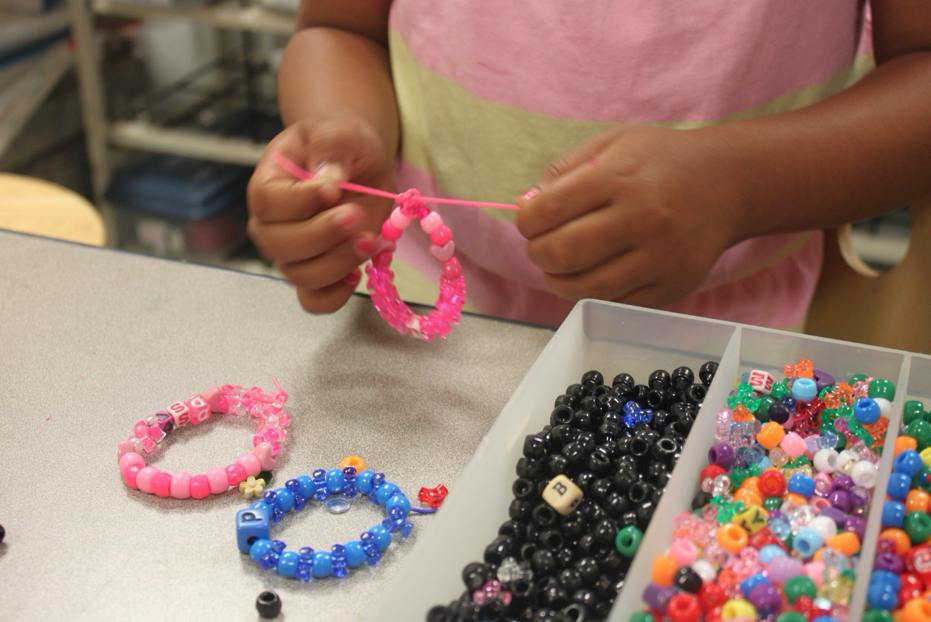 My Lines: The Magic of Christmas
Jenny had circled the beading station multiple times, checking on the progress Kenny was making with the necklace he was making for his girlfriend, Lily, and hoping to get a chance at making something herself. So she finally sat down, next to a stranger, and began the process of threading colorful beads into a bracelet. She had noticed how the stranger helped everyone who came to the station get their start, and shared encouraging and comforting words.
Kenny, one of the first to come to the station, had come and gone, having finished his necklace for his girlfriend, a masterpiece of colors, it was a present marking their first month anniversary. He was in 8th grade, and had kind and loving words to describe her, and smiled warmly when doing so. His seat was taken by Jeremiah, whose Dad, Angel was alongside him. Jeremiah was in a wheelchair, with a feeding tube dangling off to the side. He had to be 8 or 9. His Dad spoke in limited English, accepting help from a stranger, to get started on a bracelet for his son. As he made progress, Jeremiah smiled approvingly. Later, during Santa's visit, Angel detached the feeding tube and helped Jeremiah onto Santa's lap so Santa could hold him. Both of their smiles lit up the room.
And then came Messiah, a little man of 7 or 8, focused intently on making a bracelet. He accepted little help, determined to do it himself. He fished through the dishes filled with colorful beads and letters, to find an M, then two S's, and the rest of his name's letters to spell his name. And when he finished, he picked out three more: M O M. And threaded the letters in order, to spell out is name, and hers, as a gift for her, who was sitting nearby, making her own bracelet.
Did she know the meaning of his name, she was asked?
She did now, but not when she named him, she said. She just liked the name, but now, she said his name was fitting: like his namesake, he had changed her world, and it brought her to know about a story thousands of years old.
After getting her nails done, Michaela was finally ready for the beading station. She was 13, brought her BFF (which the stranger learned was 'Best Friend Forever') and talked a mile a minute, seemingly oblivious to her surroundings. She was involved in four or five conversations at once, while picking out the colors she wanted – all red and green beads – and letters spelling out her name. She slowly threaded the beads, and heard some music in the background, softly saying as if no one could hear: 'All I want for Christmas is a home of my own, again.' She paused, noticing the stranger had heard her, wiped a tear away, and resumed threading her beads. When done, she asked another stranger helping at the station to tie the bracelet onto her wrist, proudly showing it off to her Mom.
The evening began like so many others for them – accepting the gift of a meal from strangers. But these visitors were different. They served the meal, and sat alongside them, holding babies and making sure everyone had plenty to eat. But once the crafts broke out, and Santa visited, the room transformed into a veritable Santa's workshop. There they were, dozens of strangers, elbow to elbow with them, making ornaments, painting nails, decorating gingerbread men, making paper chains, and yes, beading. The spirit of Christmas doing its magic, and chasing away the realities of life for a few short hours. The hardness that comes from life's challenges, seemingly melted away.
As the night was winding down, Jenny stood alongside the stranger, thanking him for everything his family had brought to her and the others who were living there.
She shared her story, one of many years of hardship and abuse that she could no longer endure, nor expose her son Kenny to. He was becoming a man, she said, and she did not want him to think that was how men were to behave. She just had to leave, and found refuge in the shelter, now on her third month!
Then she asked about what the family had done, and the stranger told her the story that was on its twelfth year.
Tears welled up in her eyes, then said 'I hope the Lord blesses me enough someday to be able to do something like this for others.'
And the stranger thought, for the twelfth time, it was he and his family who was being blessed.
(Every year for the past 12 my family and sibling's families have sponsored a Christmas party at the Crossroads Family Center, a homeless shelter in Providence. We originally did it to honor my Dad's 25 years of serving another homeless shelter on Christmas and Thanksgiving while we were growing up. It has become so much more than that for our families.
This is a story from last year which we think helps capture the meaning of the Christmas spirit.)
---
| | |
| --- | --- |
| | This month's My Lines was authored by Jim O'Donnell, our President, and is a reprint of one of his Morning Jim blogs which he shares with the company every Monday. |
By: Equity National Title December 18, 2019 Uncategorized