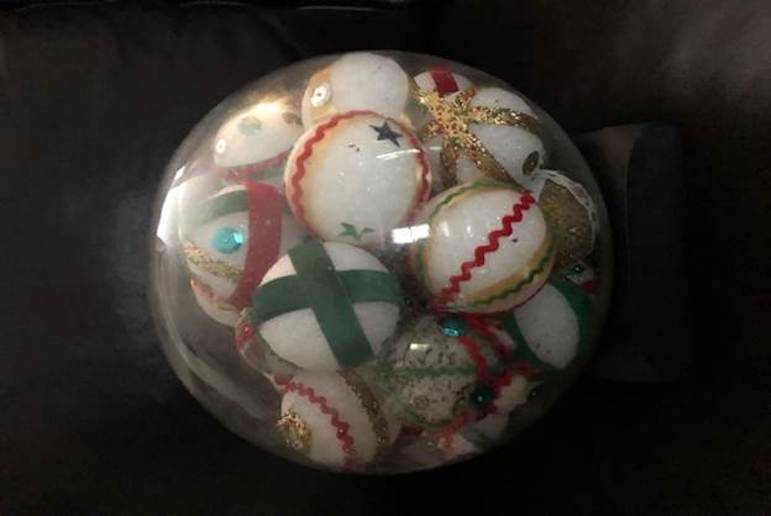 My Lines: December 2018
The heirloom ornaments are in a new home – mine – after a little more than five decades of being part of my parent's Christmas decorations. At first, they hung from their Christmas trees until they downsized to our 'beach house' and displayed them in a globe. It enjoyed a prominent setting among their Christmas decorations for decades, a visual reminder of Christmases long ago, but more importantly, of how our school-teacher Mother stimulated our creativity borne from frugal necessity.
With six children to feed, clothe and school, there was little money for non-essential extras, especially around the holidays, yet our Mom did not let that get in the way of decorating our home. She put us to work, quietly calling on her Kindergarten-teacher skills to guide us. 
So there we were, gathered around our dining room table, making paper chains from red and green construction paper strips to serve as garland. We strung popcorn with string also for garland, when we weren't snacking on it – not much made it to the tree. She laid out Popsicle sticks for us to assemble in the shape of Christmas trees and then glue it all together, and helped us spread glue over those face-up to then drip green or red glitter onto it. And we cut white paper plates in the shape of a snowman, and cut out hats, buttons, gloves, stovetop pipes and a carrot nose from the package of construction paper she had bought to complete the job. As the decorations were ready, we hung them. And, as both a snack and occasional decoration, she had cooked ornament shaped cookies and gingerbread men for us to decorate with frosting.
In the background, she played Christmas albums on the family Hifi (this shows my age, but a HiFi was a turntable encased in cherry wood with a built in speaker).
But the highlight was decorating ornaments. She laid out white Styrofoam balls, ribbons of all kinds and colors, stickers and tiny ornaments, along with sewing pins to secure them all, and set us loose.  We'd wrap the ball with a ribbon or two and then fasten it by pushing in the pin, then adding other decorations the same way. Not one ornament was the same and after hours of work, we hung them on our tree, often fighting over whose was best and whose should have a more prominent place on the tree. The ones that made it to the globe were the best of the survivors over the years. And in every visit to their home during the Christmas season, the globe caught our eyes and triggered warm memories. Stirred by those memories, we'd often make Christmas crafts with our children.
When my siblings and I decided to honor our parents by sponsoring a family Christmas party in a Providence homeless shelter twelve years ago, we called upon those memories and re-created the magic that occurred around our dining room by bringing our craft-making skills with us. Making Christmas crafts with families there is easily the highlight of the night, even beating the ice cream sundaes and Santa's visit! We notice the joy on the faces of the family members as they make one decoration after another, often stopping to joyfully show them off to a parent, or present as a gift. The scene becomes a mini Santa's workshop – a magical transformation – all inspired by a school-teacher's gift long ago.
As my wife and I decorated our home this weekend, I noticed how so many ornaments or decorations triggered a memory or story which warmed our hearts. And when many of us here at Equity decorated the Equity tree with our special ornament last week, they too came with stories shared. A sweet reminder of the power of the Christmas season – stories that warm our hearts.
The globe is in its new home in a prominent place designed to catch someone's eye in the hopes that its story – much like its contents – triggers a warm memory or continues to inspire.
By: Jim O'Donnell December 4, 2018 Uncategorized